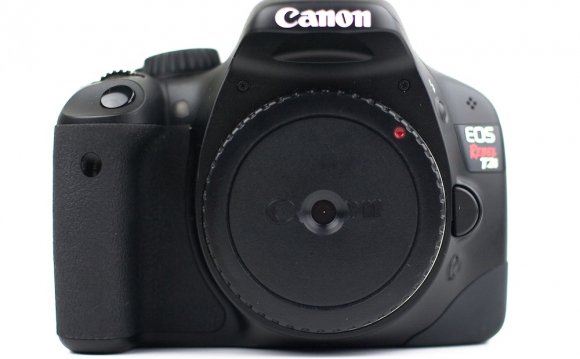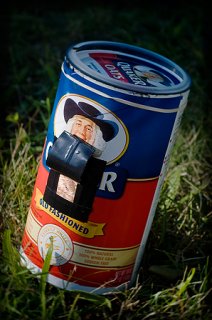 There are several ready-made boxes that can easily be transformed into pinholes cameras. A classic is a cylindrical cardboard oatmeal box (with about a 3 inch diameter). This biodegradable cylinder can be retrofitted to become a camera capable of infinite depth of field. This guide will instruct on how to create your own Quaker Oats Pinhole Camera.
Supplies:
Cylindrical oatmeal box with 3 inch diameter, Pair of scissors, X-Acto knife, Ruler, Black vinyl electrician's tape, Flat black acrylic paint or flat black spray paint, Sewing needle (#10 preferred), Pencil, Soda can or aluminum recyclable pie-pan, # 600 grit sanding paper, Dense fold-able fabric like velvet, A rubber band, Masking tape, and Tin Snips (scissor to cut metal)
Preparing the Container:
Clean out the oatmeal box of food or dust. Spray paint the inside of the oatmeal box with an even coat of flat black paint. Tape both sides of the lid with black electricians tape, overlapping layers of tape. It is not necessary to to tape the small inner edge of the lid. Use a piece of dense fold-able fabric like velvet, and cut into a 1-foot-round piece that can be held in place over the lid with a rubber band. This will shield the lid from direct light.
Adding the Pinhole:
An aluminum pie-pan is approximately 0.002 gauge, and a soda can is slightly less than 0.002 gauge and slightly harder to push a pin through but is still a good choice for the pinhole. Cut a 1-inch square from the aluminum. Place a sheet of cardboard under the cut sheet. Get a small sewing needle. The different size needle will create a different size pinhole. Tape a piece of masking tape to the end of the needle to prevent it from pressing into your skin. Hold the needle point on the center of the piece of the 1-inch square aluminum and spin the metal while holding the point of the needle against it. With some amount of spinning and pressure the needle will drill through the metal. Spinning the metal will keep the hole round. With a piece of 600 grit sand paper, sand off the burr on the backside of the pinhole and also sand the front side. Clean out the sanded metal from the pinhole.
Share this Post