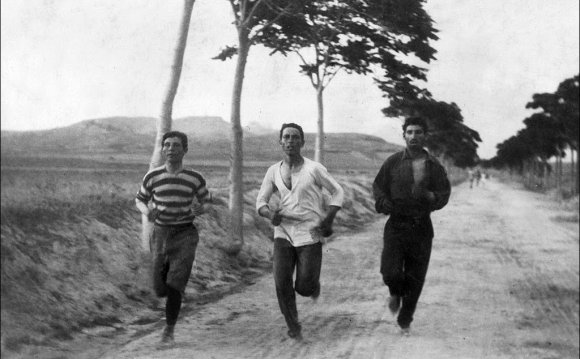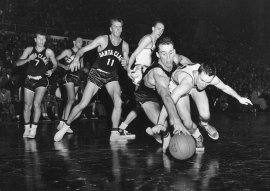 Clarkson Creative founder, Rich Clarkson, has photographed thousands of legends in the sports industry. But none quite match up to that of coaching giant, Dean Smith — a college basketball player at University of Kansas and later coaching a dynasty at North Carolina.
For Clarkson, the introduction to Dean Smith goes back in time to the college days in Lawrence, Kansas. Rich was the up-and-coming sports photojournalist beginning to gain insider access into the Jayhawks basketball team led by the venerable Forrest "Phog" Allen and travelled with the team on the road. The team enjoyed having Rich there to document their story and he even stayed with the team, often rooming with the 12th player on the Kansas team: Dean Smith.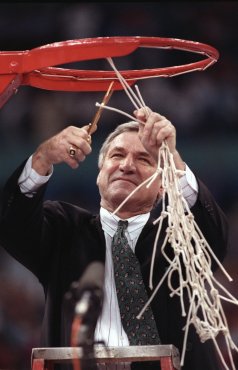 From there, Rich, Dean, and the rest of the team all grew with time towards the 1952 National Championship where Kansas defeated St. John's 80-63 for the title. Dean Smith was a Junior that year.
Rich continued his success freelancing for Sports Illustrated with his success in covering Kansas athletics with the greats of Wilt Chamberlain, "Phog" Allen, and, yes, Mr. Smith. After graduating college, Dean stayed on as an assistant coach for Kansas before making his way to Air Force — but there, was a head coach for baseball and golf teams. He finally got a big break when in 1958, North Carolina basketball head coach, Frank McGuire, asked for him to come on board as an assistant coach.
And then after becoming head coach for the team in 1961, it took him seven trips to the Final Four before he would win the National Championship in 1982 with future NBA players of James Worthy, Sam Perkins, and #23 Michael Jordan. In fact, when Rich photographed the Tarheels that season for being No. 1 with a record of 32-2 to end out the season, you will see Mr. Smith working on a mocked whiteboard play with 4 players standing behind him. The fifth player was a Freshman and Dean refused for him to being in the photo shoot to follow strict team rules he set in place. That fifth player? You guessed it, Michael Jordan.
Clarkson and Smith re-united many times over the years running in the same sports circles and Rich continued his streak of photographing more Final Fours than anyone in history. (Currently, Rich will be photographing his 60th Final Four this April in Indianapolis, IN.) But in 1983, Rich photographed him once again cutting down the nets after a National Championship win over Michigan 77-71.
Dean Smith will be remembered forever in the industry as an elite coach that was one of the best teachers of the game and strong advocate for social justice. Rich and the Clarkson crew give our condolences to the family. In addition to wife Linnea, Smith is survived by daughters Sandy, Sharon, Kristen and Kelly; son Scott; seven grandchildren and one great-grandaughter.
YOU MIGHT ALSO LIKE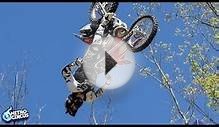 Biggest Trick In Action Sports History - Triple Backflip ...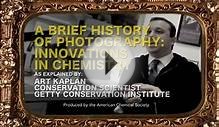 A Brief History of Photography: Innovations in Chemistry ...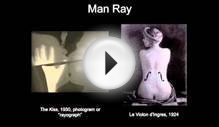 ARTS1313 History of Photography, Surrealism
Share this Post